This poster brings new meaning to the phrase "The Art of Beer Pong". Tailgate Party fans will want to get their hands on one of these!
It's a parody of Michelangelo's "The Creation of Adam" –  after God created Adam, he created beer pong!  Imagine that laminated, framed or mounted on MDF and behind your bar in your man cave or clamped to your canopy in the car-park.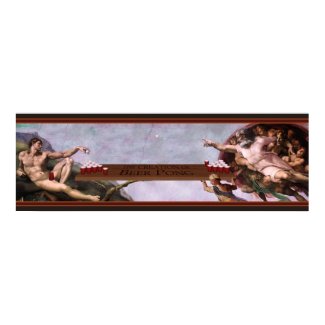 The Creation of Beer Pong Posters
by
HollaBeck
Find additional
posters for sale
at Zazzle
Are you more  of a home-gater than a tail-gater?  Do you have a man-cave? Or do you like to take your style to the car park?
No matter what, you have to agree that this is a fabulous piece of art!  It's called
'The Creation of Beer Pong' and is a Poster available in many sizes and prices.
Perfect gift for that tailgate party animal and beer pong champ in your life.
60" x 20"
$40.75